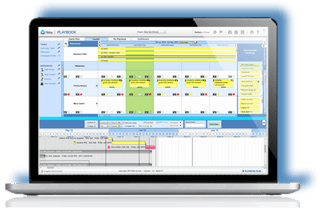 If you are managing hardware, software, or even complex IT projects and would like to improve your team's performance, this on-demand, one-hour webinar demonstration of Playbook Lean project management software and methodology is designed for you...
You will see a demonstration of Playbook Lean project management software that supports theses principles and learn:
Why pull systems maximize throughput and empower teams;
Why prioritizing tasks across the enterprise is critical to project success;
How maintaining a 70% utilization rate increases quality, speed and improves morale;

How early learning maximizes innovation;

Why holding daily stand-up meetings increases communication, enables faster feedback and reduces risk;
How adopting a decentralized planning, ownership and management model empowers teams and delivers realistic plans; and,
Why shared project buffers decrease the tendency to over-estimate, improving the accuracy of plans, and accountability.


Transform your product development approach today. Fill out the form on the right.