Playbook is excited to be a sponsor of LPPDE North America. Today we will be live blogging much of the conference. LPPDE showcases thought leaders in Lean thinking from around the world.
Jim Morgan introduced Day 1 along with Jorrit de Groot.
First on the agenda is Dr. Jeff Liker speaking about Lean Product Development as Culture Change and Deliberate Innovation through Continuous Improvement. Arguably one of the most recognized thinkers in Lean, Dr. Liker has authored countless works including, The Toyota Way.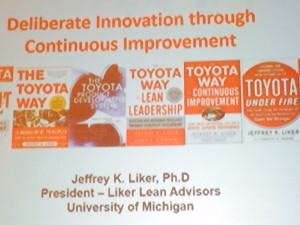 Dr. Liker points out that we are always coping with uncertainty and adapting to change in the 21st century. In addition that the NPD process is chaotic and subject to change.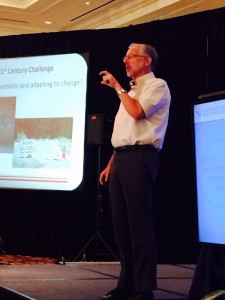 We need to focus on fixing the NPD process. The current definitions are lacking. What everyone is trying to do is deliver the right product at the right time, without defects or a better definition is :
"The permanent struggle to better flow value to our customers."
Some other notes from Dr. Liker
1. Investments in quality and cost reduction at the design phase are 100 times more cost effective than investments after production begins.
2. If you want a stable business you need to focus on repeat business - Toyota "Customer for life."
3. Customers want newer and better. (e.g., Innovation, Quality Products and Services, Timely new product and High-value)
4. Stable sales allows for reinvestment in the business - Toyota does this well. Huge cash reserve to maintain R&D, culture, etc.
5. Focus on the long-term, not the next quarter.
Goal is to become a company that can continuously innovate.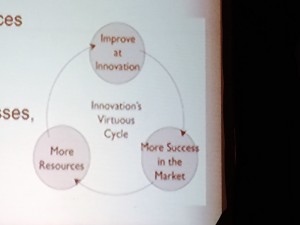 We are naturally wired to avoid risk and new learning. This takes a lot of energy. Only when things are not working do we finally try something new. Iterative learning is the way to get to the answer.
Thomas Edison tried 3000 different filaments before he achieved success.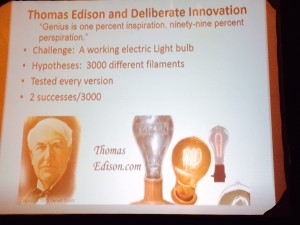 This year's practitioner's keynote is by the Interim Chief Technical Officer and VP or Global Product Development from Goodyear, Joe Zekoski, talking about Goodyear's Journey to Excellence in Product Development.
Challenge
1. Reduce load on staff by 20% - tough sell that we should schedule at 80%
2. Knowledge based development, short learning cycles, front loading and deferring decisions was critical
3. If we get the process right, the principles will follow
4. Knew we needed a leadership commitment to the journey
5. Standard documented process
6. Training
7. Visible on time delivery
8. Clear ownership of the process
On time became a standard metric of success. Goodyear maintains a 90% on time delivery standard. Joe says they maintain it at 90% as Goodyear recognizes that there is uncertainty and risk in any product development initiative. Cost of delay analysis also puts pressure on speed to market. What does it cost to delay market launch? Speed to market also resulted in the development of a knowledge management organization to ensure learning was shared - only have to learn once.
Safety, throughput and cycle time have all improved as well as delivering award winning products as a result of Goodyear's lean journey.
Goodyear asked the question of their best engineers - how can we develop a tire in one week? They had three teams work on a solution demonstrating to Goodyear that the potential was there to do it really fast. Output was a lot of great ideas about how to speed up the process.
At 10:45 AM there are three sessions taking place at once.
Pfizer Case Study
Exploring the Lean Wilderness: Developing a new lean to power Pfizer's R&D Engine, presented by Terrance Barnhart.
IBM Case Study
Innovating at Smartphone Speed: Using Obeya, the Visual Value Stream, and Rapid Learning Cycles to Accelerate New Chip Development , presented by Jeff Maling.
Pratt & Whitney Case Study
Lean Product Development - A Journey of Transformation and Innovation, by Penny Clift and Brian Gracias
From 1:00 PM to 2:00 PM
Trade-off Curves and Feasible Regions
Goran Gustafsson
Janssen Research & Development Case Study
Playing the Odds: Driving Innovation by Incorporating Lean Thinking in the Pharmaceutical Early Development Milestone-Driven Culture, Susan Wendel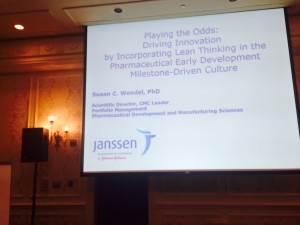 Susan talking about how Janssen is introducing lean into it's early development process.
"Innovation is the application of an idea that results in an incremental or a transformational improvement that adds value to the business."
Janssen's belief was that Lean would deliver incremental and transformational information. In pharmaceuticals, there is a 98% attrition rate in drug development. Attrition rates are high regardless of the therapeutic area.
Janssen worked to understand what impacted the effectiveness and efficiency of drug development the most and discovered the ability to achieve proof of concept reduced cost the most. Innovation and lean would need to work hand in hand to achieve their goals and therefore worked to refine their process.
Focus on critical questions, learn as much as needed, uncover problems early and make better decisions meant J&J would have an improved probability of success and introduced Lean Early Development as a process.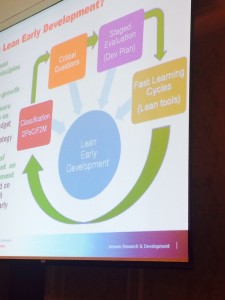 The process got them more "quality shots on goal" for the same budget.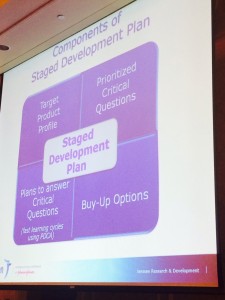 It wasn't all about Lean Early Development but about culture change. Janssen needed more shots on goal, transparency across the organization, unification of different organizational functions, ownership of the process and common communication/language.
Janssen rolled Lean Early Development out globally through workshops and surveyed before and after the workshops to ensure effectiveness.
How did the way Janssen worked change?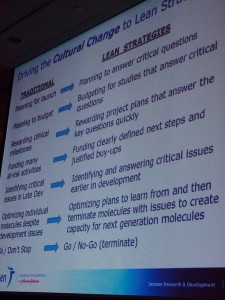 What were the biggest barriers to change?
Lack of desire for true culture change and lack of organizational trust.
Herro Builders Case Study: Building as a Product, Baris Lostuvali
2:00 to 3:15PM EST
Goodyear Case Study
Successful Innovation Based on Lean Product Development, Norbert Majerus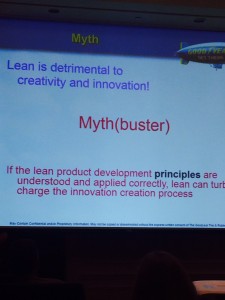 Norbert focuses on the fact that Lean, when implemented correctly, enhances innovation.
10 to 80% if effort is in planning. If you do the correct amout of planning up front, you will eliminate a lot of the risk and your success in execution goes up - project execution is lower risk and higher return.
This is the same principle that was employed at Janssen.
Goodyear doubled their throughput using Lean. Key challenges of implementing lean include enabling innovation, motivating innovators and generating products that customers will actually buy.
According to Norbert, if you get the process right the rest will follow.
How do you find and maximize the value of innovators? Norbert found that most innovations came from technical staff, serial innovators do exist, innovators were rarely included in management plans and companies that have a difficult time with empowerment will have difficulty managing innovators. Innovators like to be empowered to innovate.
What kills innovation?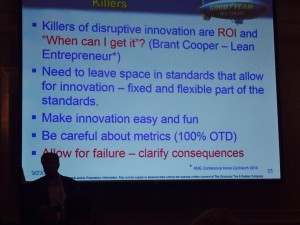 When did Goodyear invest? Goodyear invested in Lean product development when the market was bad - investing in the long term.
Norbert closed the talk confirming that lean can enhance innovation, innovation capability can be developed in people - learn the principles and empower people to use them.
Honeywell Case Study
Optimizing Knowledge Value Stream in a Lean Enterprise, Ramakrishnan Raman
DJO Global Case Study: The Seeds of Innovation, by Rich Glidersleeve
At 3:30 there will be a number of interactive case studies taking place including one by PLAYBOOK!
Menlo Innovations Interactive Case Study
The Business Value of Joy by James Goebel
Reviewing and Improving A3 Reports
Durward Sobek & Jorrit de Groot
Maximizing Flow Through Visual Work Management: The 5 Critical Principles and The Tools That Support Them, by Eric Graves and Paul DeLong
Paul DeLong and Eric Graves will be introducing interactive games to demonstrate some of the PLAYBOOK principles.
Paul and Eric start by asking the question why does new product development take so long. Some of the answers were:
- Unclear requirements
- Changes to scope
- Collaboration across the organization
- Manufacturing issues
- Field testing
Eric and Paul walked the group through games which demonstrated how multi-tasking - working on multiple projects at once - can double your project timeline.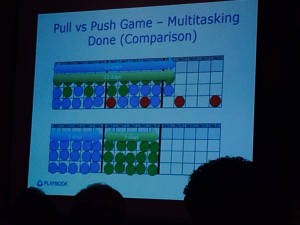 The key finding is that you will get to market in half the time by focusing on the right tasks at the right time.
PLAYBOOK the software supports both these principles by letting project team members pull their own work, as well as algorithmically calculating the most important work that needs to get done today to keep projects across the enterprise moving forward today. Priority tasks are based on criticality and other factors.
In short, by adopting 7 key principles, and using software that supports them, project teams can significantly speed up their time to market.
DAY 2
Here we are at Day 2 of LPPDE! Yesterday we heard several case studies from companies like Goodyear and Janssen and the success they have been having with Lean.
This morning we are hearing from Dr Womack who is providing us with a deep history of Lean and Perspectives on Lean Product and Process.
Culture is one of the biggest barriers to lean adoption. This has been a theme through out the LPPDE conference.
"It's a pain to do experiments on your own development process. ...Difficult to fix the plane while you are flying it."
According to Dr. Womack, Jim Morgan is the route cause of the success of the Ford Motor Company.
GE Appliances Lean Journey, Kevin Nolan, VP Technology

Kevin is tasked with the GE appliances division businesses growth strategy.
GE is a company of Best Practices. Started with Six Sigma and then transitioned to Lean Six Sigma, now working with Eric Ries.
But Kevin keeps going back to Lean. Kevin is trying to transform product development and manufacturing.
GE invented the refrigerator. 5.6 Billion dollars in revenue. Big focus on bringing manufacturing back to the USA.
Prior to Lean product development, manufacturing drove lean efforts, serial product development process, rigid program specifications etc. What we were really good at is product specifications.
When the recession hit, GE was hit hard as much of their distribution was through new housing. This is were learning really started to happen - and assessment of the business ensued.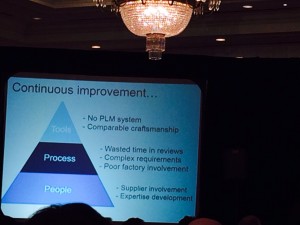 Moved from focusing on rigid process to a focus on the customer and as a result developed 11 new award winning platforms, 6 new plants, and 3000 new coworkers. But there is still a lot of room for improvement.
Opportunities for improvement.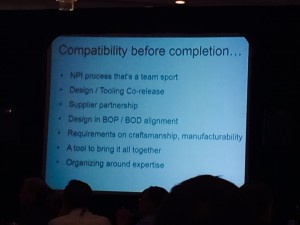 Nolan believes there is a lot more work to do and many opportunities for improvement.
The Role of the Chief Engineer in Delivering Product Excellence, Dan Pericak, Ford
Dan was tasked with leading the team that developed the next Mustang - Team Mustang.
The role of Chief Engineer needs to be the voice of the customer. It's can be difficult to stand up for what the customer wants as well as the negotiator, arbitrator, judge and jury when working with cross-functional teams. Forcing the tough discussions.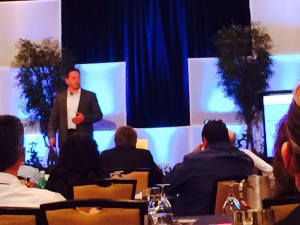 There must be tension in the creative process - this is when you know you are going to deliver a great product. You need to make the decisions based on customer demand and then work through the business equation.
Plenary Panel Discussion with Kevin Nolan, Dr. James Womak and Dave Pericak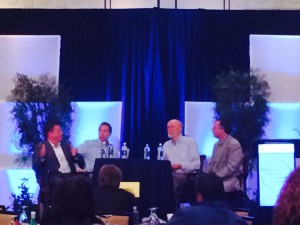 Key Thoughts
1. Stick to system vs component engineering
2. Lean Product Development gets harder as you go as you uncover so many opportunities for improvement. How do you identify, develop/cultivate strong Chief Engineers?
4. What is required of a good Chief Engineers - problem solver, leader, challenge the norm, passion and belief, and a polisher - never good enough
5. Corporates love the budget manager
6. Develop a process that lets innovators innovate.
7. Reward system that supports passion for a product
8. Make the right decision. Decreasing a cost may create a scope change that delays launch - killing your profit
9. Design reviews are where the magic happens