To get started, let's review the solution steps in the phases of change diagram.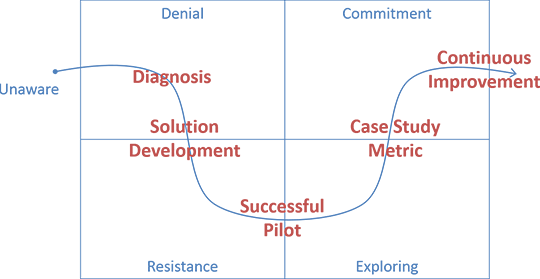 It should be clear that you need to have a successful pilot that yields measurable business results in order to prove its effectiveness and continue with the next initiative. But what the diagram doesn't show is what's necessary within the pilot to create those results.
Fortunately, there's a model that makes this process easier to understand. It comes from the Kirkpatrick model for evaluating training effectiveness and is outlined in the image below.

If you view it backwards (from right to left), it shows that in order to get results, you need to change behavior. And in order to change behavior, people to learn something. And finally, in order to learn something, people need to have a good reaction to the training.
This should sound logical, but there's a hidden stumbling block.
Just because someone learns something,
doesn't mean they will change their behavior!
Think about that. Have you ever seen people go to training and come back excited, but a few weeks later, there's no evidence of any change?
It's actually quite common. There's a reason most training doesn't work, but it's not because it was "bad training."