Training
Online training courses are a great way for new users to get up to speed on Playbook Methods and software or for anyone just needing a refresher and, best of all, they are absolutely free!
Ready to get started? Click here to enroll!
Exercises
Basic User (Everyone)
Power Users (Project Leaders & Summary Task Owners)
Reference Materials
Report Templates

Download Playbook report templates.
Buffer Chart
Buffer Charts help project teams answer the question, "How likely is it that we'll complete our project on time?"
Buffer Charts plot the movement of a milestone relative to a buffer and indicate the current level of schedule risk to the project team every day!
To learn more about buffers and buffer charts, enroll in the Fundamentals of Buffers course on Playbook Academy.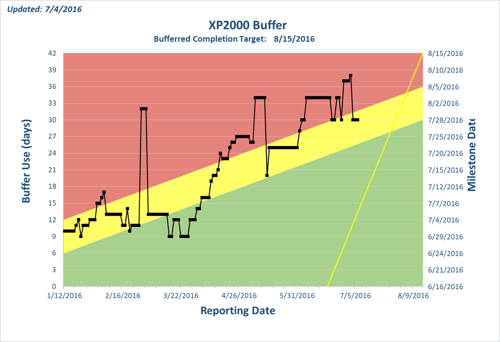 In addition to the embedded buffer charts in Playbook which do not require any external files, they are also available in Power BI and Excel formats.
Power BI Template (Updated 18-Aug-2022)
Excel Template (Updated 10-Nov-2022)

Need a hand? Contact us at Training Support.